The Jalapeno Popper Grilled Cheese is the perfect combination of spicy and a subtle sweetness. This delicious sandwich would be the perfect party food.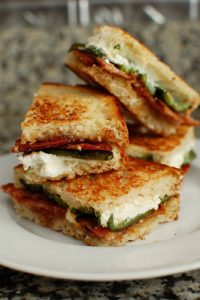 Jalapeno Popper Grilled Cheese
2017-01-17 09:28:40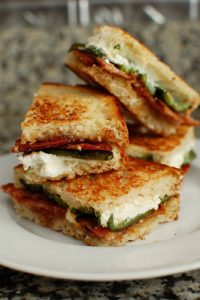 Serves 2
Ingredients
2 slices sourdough bread
2 ounces goat cheese, softened to room temp
4 Slices Crisp-Fried Bacon
3 Whole Fresh Jalapeno Peppers
1 Tbsp Apricot Preserves
2 Tbsp Butter
Instructions
Slice each jalapeno in half lengthwise, and remove stem, ribs and seeds.
Place cut-side-down on a baking sheet, and broil until skins blacken and blister, about five minutes. Remove jalapenos from broiler, and transfer immediately into a plastic bag or other sealed container.
Seal and let steam until cool enough to handle, about 10-20 minutes. Remove blackened skins by pinching them between your thumb and forefinger, and discard.
Spread one of the slices of bread with the goat cheese. Top with roasted jalapeno peppers, then bacon.
Spread the other piece of bread with the apricot preserves, and add to sandwich. Butter each side of the sandwich, and toast in saucepan over medium heat until bread is toasted, about 2-3 minutes a side.
The Ultimate Cheese Sandwich https://theultimatecheesesandwich.com/