The Garlic Bread Grilled Cheese is sure to have your mouth watering! It's very easy to make and it's perfect for a cheesy, garlic fix. Try it for yourself and you'll knock it out of the park!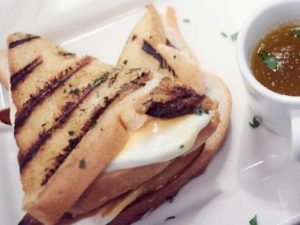 Garlic Bread Grilled Cheese
2017-01-16 10:32:34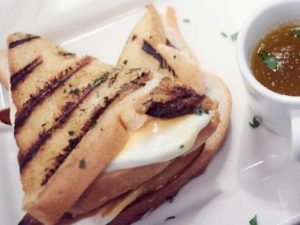 Serves 4
Ingredients
4 tablespoons garlic powder
3 tablespoons minced fresh parsley
2 tablespoons sugar
1 teaspoon seafood seasoning, such as Old Bay
1 clove garlic, minced
1 teaspoon salt
2 sticks (1 cup) butter, softened
8 slices bread
4 slices American cheese
4 slices fresh mozzarella
4 slices smoked Gouda
1 tablespoon olive oil
Instructions
Preheat the oven to 400 degrees F.
Mash the garlic powder, parsley, sugar, seafood seasoning, garlic and salt into the softened butter and blend very well.
Spread the garlic butter on one side of each slice of bread. Arrange the bread, buttered-side down, on a work surface. Layer four of the slices with a slice each of the American cheese, mozzarella and Gouda; be sure that the mozzarella is in the middle. Top with the remaining 4 bread slices, buttered-side up.
Heat a grill pan over medium heat until hot; brush with the oil.
Add the sandwiches to the pan. Cook until grill marked, 30 seconds per side, then transfer to a baking sheet. Bake until the cheese is melted through, 10 minutes. Serve immediately.
The Ultimate Cheese Sandwich https://theultimatecheesesandwich.com/