The Fajita Grilled Cheese is a combination of traditional salsa-inspired ingredients like tomato, onion, chives and jalapeño peppers in a delicious jack cheese. This cheese pairs wonderfully with all types of Mexican inspired dishes.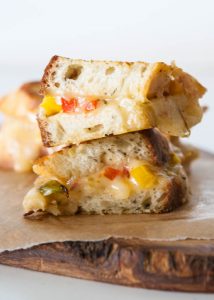 Fajita Grilled Cheese
2017-01-18 09:35:23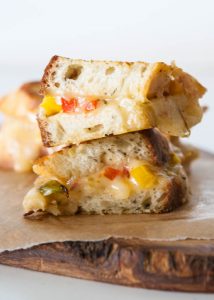 Ingredients
1 tablespoon olive oil
1/4 cup sliced green bell peppers
1/4 cup sliced red bell peppers
1/4 cup sliced yellow bell peppers
1/4 cup sliced red onions
sliced Great Midwest Salsa Jack Cheese
sliced crusty baguette or other hearty bread
butter
Instructions
Heat skillet over medium heat. Drizzle with olive oil and add bell peppers and onion. Sauté until tender and set aside.
Slice bread and butter on one side. Assemble sandwich with cooked peppers, salsa jack cheese and bread. Cook sandwiches in skillet over medium heat until golden brown, flipping once.
The Ultimate Cheese Sandwich https://theultimatecheesesandwich.com/