This Chicken Parm Grilled Cheese Sandwich is perfect for when you're craving the delicious Italian flavor without all the hassle. With the melt in your mouth parmesan and mozzarella, this is the kind of sandwich that'll hit the spot!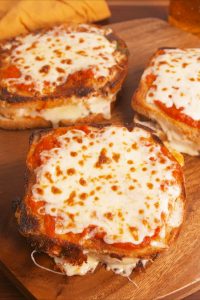 Chicken Parm Grilled Cheese
2018-02-09 13:27:18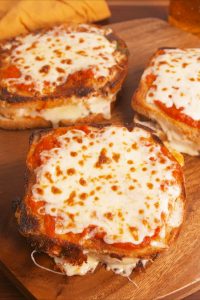 Serves 1
Ingredients
1 tbsp. butter
2 slices white or sourdough bread
1 tbsp. plus 2 tsp. marinara
1 c. shredded mozzarella, divided
1/4 c. freshly grated Parmesan, plus more for garnish
3 oz. fresh or frozen breaded chicken, cubed
A few torn basil leaves
Freshly ground black pepper
Instructions
Heat broiler. Assemble sandwich: Spread butter on one side of each slice of bread. On the unbuttered side of one slice, spread 1 tablespoon marinara sauce, then top with ¾ cup mozzarella, Parmesan, chicken, and basil. Top with remaining slice of bread, buttered side up.
In a large, oven-safe skillet over medium heat, cook sandwich until crispy, 5 minutes per side.
Spread remaining 2 teaspoons marinara sauce on top of sandwich, then top with remaining 1/4 cup mozzarella. Broil until cheese is melty and golden.
Sprinkle with additional Parmesan and pepper and serve.
Adapted from Delish
The Ultimate Cheese Sandwich https://theultimatecheesesandwich.com/