The Turkey Bacon Avocado Grilled Cheese Sandwich is not your average grilled cheese sandwich. The flavors come together great to make this sandwich special.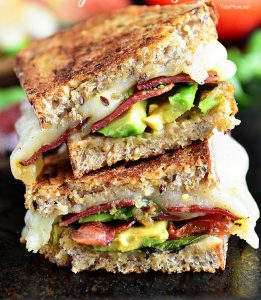 Turkey, Bacon, and Avocado Grilled Cheese
2016-10-27 13:10:39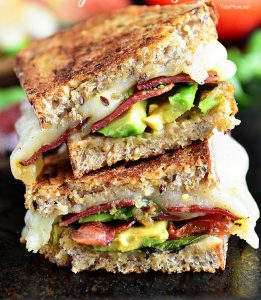 Ingredients
4 slices hearty artisan bread
4-6 slices Butterball turkey bacon, cooked
4 sliced mozzarella (about 4-6 ounces)
1 avocado, sliced
1 ripe tomato, sliced
basil leaves
1-2 tablespoons of butter
Instructions
Butter one side of each of the slices of bread.
Pace 2 sliced of bread, butter side down in skillet or griddle. Layer with mozzarella, turkey bacon, avocado, tomato and basil. Top with remaining slices of buttered bread (butter side up).
Heat over medium high heat and top sandwiches with the remaining slices of bread, butter-side-up and cook until golden and cheese begins to melt - about 4 minutes (you can cover with a lid to speed up the melting process.)
Carefully flip sandwich, reduce heat to medium and cook a few more minutes until cheese has melted and bread is golden brown.
Slice in halve and serve.
The Ultimate Cheese Sandwich https://theultimatecheesesandwich.com/