Pizza Margherita Grilled Cheese, all your favorite ingredients from a classic pizza Margherita stuffed in between 2 slices of bread. Simplicity at its best.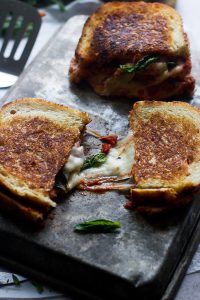 Pizza Margherita Grilled Cheese
2016-10-27 12:02:15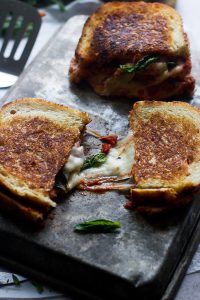 Serves 4
Ingredients
1 teaspoon olive oil
1 large garlic clove, minced
14.5 ounces fire-roasted canned tomatoes
¼ teaspoons salt
1 tablespoon sugar
16 ounces fresh mozzarella cheese, sliced
1 cup basil leaves
8 slices sourdough bread
3 tablespoons butter, melted
Instructions
In a small sauce pan, heat olive oil and garlic over a medium heat. Saute until softened, about 1 minute. Add tomatoes, salt and sugar. Simmer for 8-10 minutes. Set aside.
Heat a large cast-iron skillet or griddle to a medium heat.
Spread about 2 tablespoons of sauce on each slice of bread. Top with four ounces of slices of cheese. Top with 4-5 leaves of basil.
Drizzle with a little bit of olive oil. Season with salt and pepper. Place top of bread, sauce side down on cheese and basil. Brush tops with butter. Season with a bit of salt and pepper.
Place sandwich butter side down in heated skillet (work in batched if needed), brush other side with butter. Cook until golden brown and crispy on each side and the cheese is melted. (If you are having a hard time getting the cheese to melt, pop into a 350 degree oven for a few minutes.
The Ultimate Cheese Sandwich https://theultimatecheesesandwich.com/