Pickle Bacon Grilled Cheese. This sandwich is perfect with crispy bacon, gooey cheese and crunchy dill pickles. Grilled cheese will never be the same again!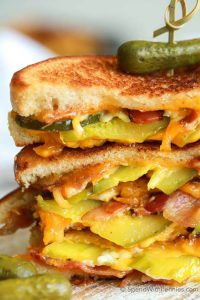 Pickle Bacon Grilled Cheese
2016-10-27 13:41:59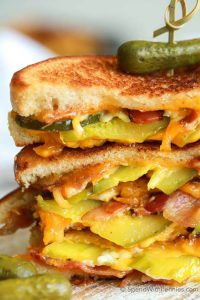 Serves 1
Ingredients
1½ slices bacon
2 slices bread
1 tablespoon butter
1 large pickle
2 slices cheddar cheese
1 oz mozzarella cheese
Instructions
Cook bacon in a pan until crisp. Drain on paper towels.
Remove most of the bacon grease from the pan. Butter each slice of bread.
Place bread butter side down. Top with cheddar cheese, pickles, mozzarella, bacon, and cheddar cheese. Top with second slice of bread, butter side out.
Cook over medium low heat flipping halfway until bread is lightly toasted and cheese is melted.
The Ultimate Cheese Sandwich https://theultimatecheesesandwich.com/