The fresh flavors in the Grilled Zucchini Caprese Sandwiches recipe will leave you wanting more. One online reviewer claims, "These sandwiches came together quickly and won over the crowd. The zucchini was so flavorful with the garlic and oil. I wouldn't make any changes to the recipe! (served with chips and fresh veggies for lunch)"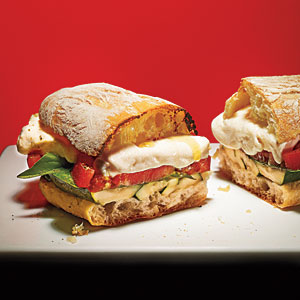 Grilled Zucchini Caprese Sandwiches
2017-01-26 09:28:09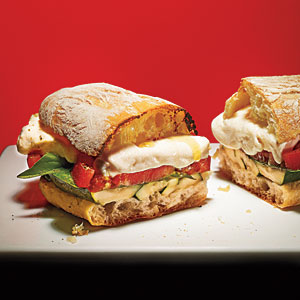 Serves 4
Ingredients
1 medium zucchini, trimmed and cut lengthwise into 6 slices
4 teaspoons extra-virgin olive oil, divided
1 garlic clove, minced
1 1/2 teaspoons balsamic vinegar
1/8 teaspoon kosher salt
1/8 teaspoon black pepper
4 (2-ounce) ciabatta rolls, split and toasted
8 large fresh basil leaves
1 medium tomato, thinly sliced
6 ounces fresh mozzarella cheese, thinly sliced
Instructions
Heat a large grill pan over medium-high heat. Place zucchini in a shallow dish. Add 2 teaspoons oil and garlic; toss to coat. Arrange zucchini in grill pan; cook 2 minutes on each side or until grill marks appear. Cut each zucchini piece in half crosswise. Return zucchini to shallow dish. Drizzle with vinegar. Sprinkle with salt and black pepper.
Brush bottom halves of rolls with the remaining 2 teaspoons oil. Top evenly with zucchini, basil, tomatoes, and mozzarella.
Brush cut side of roll tops with remaining liquid from shallow dish, and place on sandwiches. Heat the sandwiches in pan until warm.
The Ultimate Cheese Sandwich https://theultimatecheesesandwich.com/