Grilled Cheese Soup Dippers, because the best part of tomato soup is dunking a buttery grilled cheese into the bowl. Perfect for every grilled cheese need!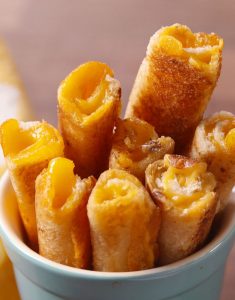 Grilled Cheese Soup Dippers
2016-10-27 11:27:21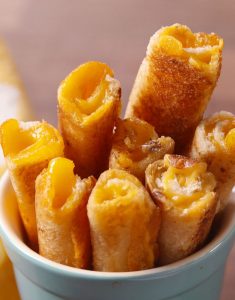 Ingredients
4 tbsp. butter
1 onion, finely diced
1 Garlic clove, minced
28 oz. crushed tomatoes
3 c. chicken (or vegetable) stock
1/4 c. heavy cream
Fresh basil, for serving
8 slices white bread, crusts removed
8 slices cheddar cheese
kosher salt
Freshly ground pepper
Instructions
Make soup. Melt 1 tablespoon of butter in a large pot over medium heat. Add onion cook until beginning to soften, 2 to 3 minutes. Stir in garlic and cook until fragrant, about 30 seconds. Add tomatoes, stock, 1 teaspoon salt, and 1/2 teaspoon black pepper. Bring to a boil and simmer 15 minutes. Stir in cream and garnish with fresh basil.
While the soup is simmering, make the grilled cheese roll-ups. Using a rolling pin, roll bread into flat, 1/4-inch thick squares. Place a cheese slice on each slice of bread and roll up tightly.
Melt 1 tablespoon of butter in a large nonstick skillet over medium heat. Working in batches, add the roll ups to the skillet, seam side-down. Cook, turning often, until all sides are golden and the cheese has melted, about 3 minutes. Wipe the skillet clean with a paper towel and add more butter before adding more roll-ups.
Ladle soup into bowls and serve with grilled cheese roll-ups.
The Ultimate Cheese Sandwich https://theultimatecheesesandwich.com/