The Apple Ham Grilled Cheese sandwich is a golden, delicious grilled cheese that will leave you craving more.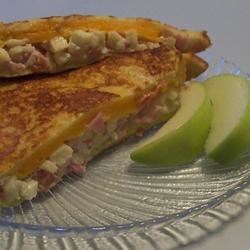 Apple Ham Grilled Cheese
2017-01-19 15:13:00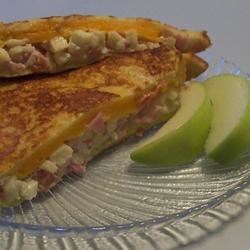 Ingredients
4 slices ham, chopped
1 small apple - peeled, cored and finely chopped
1 tablespoon mayonnaise
2 slices Cheddar cheese
4 slices bread
2 tablespoons butter
2 eggs
4 tablespoons milk
Instructions
Mix ham and apple with mayonnaise in a small bowl. Spread onto two slices of bread. Top each one with a slice of cheese and a second slice of bread.
Melt butter over medium heat in a large skillet. Whisk together eggs and milk in a small bowl. Quickly dip both sides of the sandwich into the egg mixture. Fry sandwiches in pan for 1 to 2 minutes per side, or until golden brown. Watch carefully. You want the sandwiches to be golden in color and the egg to be cooked.
The Ultimate Cheese Sandwich https://theultimatecheesesandwich.com/